Customization
Video Description

The SalesTestOnline.com Sales Personality Test is customized to the requirements of your sales role(s). Using the example of sales hunters and sales farmers, this video points out that the requirements of sales roles differ dramatically and therefore one needs to use a Sales Personality Test that allows and adjusts for this in order to effectively identify and choose sales people. The video explains that once you are a user of our Sales Personality Test we do a thorough analysis of your sales role(s) to determine your Target Profiles-combinations of success traits. An example of a Sales Personality Test Report is shown with the Suitability Rating score highlighted. This score on the test results tells you how closely the candidate matches your unique criteria based on the results of their Sales Personality Test.
SalesTestOnline.com's sales personality test is customized to your specific criteria.
Sales people differ and so do sales roles. Hunters and Farmers, these widely used terms speak to this fact. It is not good enough to just evaluate the person. In order to make the right decision test takers need to be compared against your specific role requirements. One reason our sales personality test is so effective is because we thoroughly analyze your sales position(s) and establish Target Profiles (benchmarks) against which candidates who complete our sales personality test are compared and rated.
The result of this customization shows up on your candidate reports via the Suitability Rating Score (i.e.: Excellent 80-100%, Very Poor 0-19%). This Suitability Rating, which is prominently displayed at the top of each report, clearly tells you how close of a match the applicant is to your specific criteria. Since the Suitability Rating is highly predictive of success you can devote your valuable time interviewing the highest rated candidates.

---
Applicant Name: John Applicant
Company: Your Company
Test Date: 9/5/2016 3:40:28 PM
Recruiter: Your Name
Job Name: Sales
Recruiter Code: XY1234
Suitability Rating: Excellent (80 - 100%)
Job Code: XY5431E000
---
Once you become a client we conduct an analysis of your position(s) based on information you would provide via our Job Profile Form. In addition to this we look at any other documentation, such as job descriptions or ads. One of the most powerful tools, however, is to test a sampling of your best salespeople. We analyze their sales personality test results to identify common success factors and, along with the other pieces of information, establish your Target Profiles.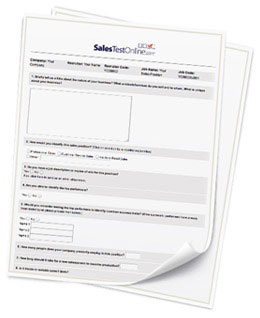 View a Job Profile Form
Because you may be using our sales personality test for a number of different roles our service includes customization for as many jobs as you require. Since jobs can and do change over time our experts are available to discuss your position(s) requirements at your convenience with a view to making any necessary adjustments, for clarification or to address any questions. Just another reason to use SalesTestOnline.
Questions? Call Us Now. 416.691.3661
---
Customization
---
---
Connect With Us: